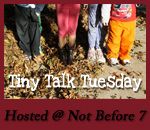 Tiny Talk Tuesday's is new blog carnival event I am trying out. It focuses on the funny things our kids say and their unique view on the world around them. I hope you enjoy it.
This conversation was relayed to me by Miss Maria one of the aides in Naomi's class. Sometime during the last week the kids in her K-5 class had a discussion about what nationality a few of the kids were i.e. Filipino, Japanese, Russian, Caucasian.
The next day Miss Maria was sitting at a table with Peach and her friend Grace. The girls were talking about where they were from, Maria told them she was little bit Chinese. Peach responded with "I'm a LOT of Chinese.....My Mom makes a LOT of Chinese food and I eat it all up."